Honesty, Integrity, and Quality Workmanship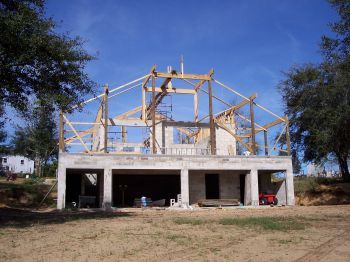 W.C.Wilburth Inc. Construction is a Florida based residential and commercial construction company. We specialize in ground-up construction as well as renovations, add-ons, custom designs and remodeling. We are experts in wood, masonry, or steel constructions. The past decade has seen many changes in the way homes are designed and constructed. W. C. Wilburth, Inc. Construction is keeping pace with the industry and providing energy efficient alternatives.

We pride ourselves in making your future building an enjoyable experience!!!
Distinctive Homes

We will build you the home you want. Period. No surprises or disappointments. If you can dream it, we can build it. We maintain control throughout the design and construction process to ensure that your residence is built to the highest quality standards.

Commercial and Industrial Property

We manage all stages of your project. From the pre-design phase of a project through construction and delivery. We form alliances with property owners, architects, structural engineers, and specialized trades people. We are proud holders of a Certified Building Contractor's license.
We pride ourselves in:
On schedule completion
Cost-effective process from beginning to end
Final product exceeding your expectations
Honesty, integrity, and great value
Energy Efficient Construction and Custom Remodeling are our specialties!

We have added Roofing and Re-Roofing to our list of services!
Call today for your free estimate!
Thinking About BUILDING GREEN?
W.C. Wilburth, Inc. Construction is proud to be a part of America's GREEN building initiative. Along with our current building practices, we offer clients the choice of adding GREEN PRODUCTS AND MATERIALS to their homes. A certified Florida Green Building Coalition (FGBC) GREEN HOME must be evaluated by a third party company in order to obtain the official certification. Many homes can have GREEN PRODUCTS in them, but are not true GREEN HOMES unless they have the official third party certification.

W.C. Wilburth, Inc. Construction is currently covering all of Central Florida, with a focus on Lake County, Marion County, Volusia County and Sumter County.

We believe that it is our duty to be good stewards of the environment and to incorporate those beliefs into our custom homes, remodels and additions.
Some of the GREEN PRODUCTS and MATERIALS that W.C. Wilburth, Inc. Construction offers includes:
Zero Volatile Organic Compound (VOC) paints which provide a healthier indoor environment
Low flow toilets, faucets, and showerheads that save on water
Energy efficient lighting and appliances

Low E windows that provide energy savings

Our

GREEN

Credentials:
Florida Green Building Coalition (FGBC)

member.
Florida Home Builders Association (FHBA)

member.
Both Bill & Sheri Wilburth are

GREEN BUILDING PROFESSIONALS

by the National Association of Home Builders.
Sheri is a Inspector of Stormwater and Erosion Control in Florida.
Sheri is a Florida Water Star Accredited Professional in Landscape.
* For a complete list of our credentials and memberships, see our About Us page.
W.C. Wilburth, Inc. Construction strives for 100% customer satisfaction. Please read what our clients have to say about their home building experience with W.C. Wilburth, Inc. on our Testimonials page. Enjoy viewing photos of our works in progress, completed homes, renovations and additions in our Projects gallery.